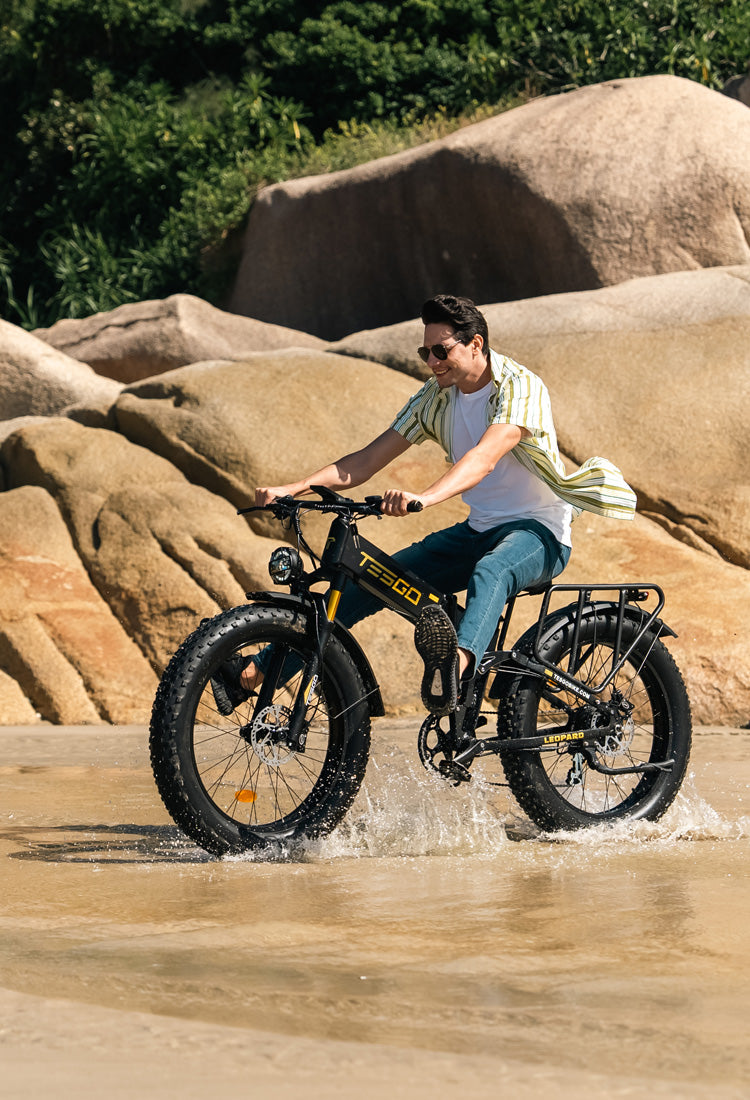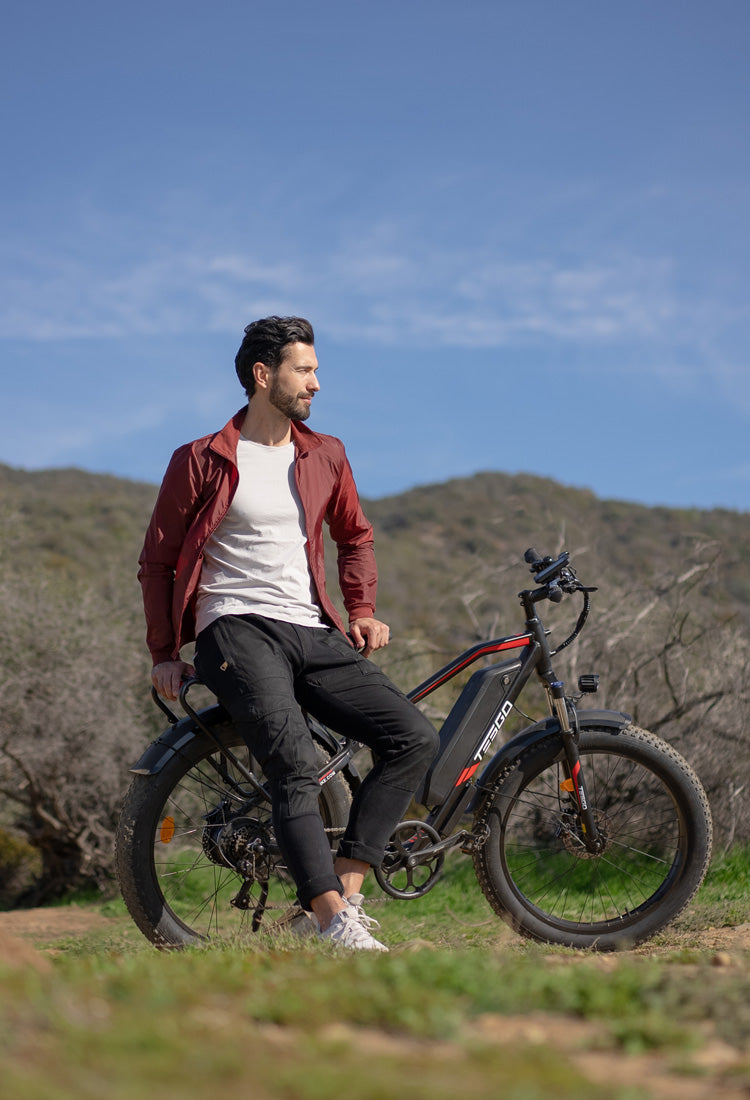 Full Suspension Fat Tire Cruiser Ultimate in power and versatility
Electric Bike Collections

E-Bike is more and more appealing thankfully there are more affordable fully featured elelctric bikes coming onto the market.The Tesgo Hummer is one that has full suspension,powerful motor and its folding design makes it easy to transport or store.

Tesgo has been in business for more than 15 years and they design and manufacture their own excellent electric bikes which are highly competitive among ebikes.

Tesgo hummer is full suspension which is not common on folding ebikes. It is also interesting to see ebikes with machined hydraulic at this price. Normally you don't see machined brake unless they're on something really nice or expensive and you don't often see hydraulic brakes on ebike at this price.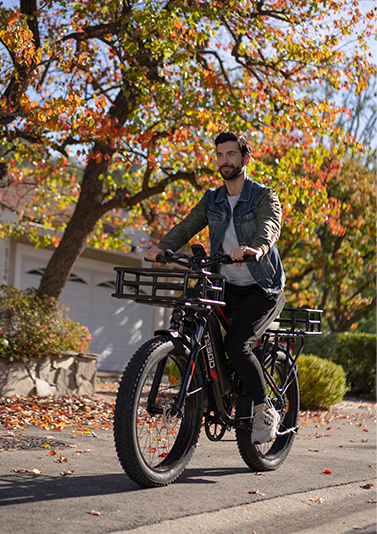 Discover TESGO
Tesgo was born for outdoor activities. We focus on all-terrain fat-tire electric bikes for outdoor lovers. We offer all kinds of e-bikes for all kinds of activities, including different motors and frame types. Our bikes are equipped with excellent suspension systems to give you a comfortable ride and provide excellent control and safety in the most difficult riding conditions. We also offer foldable e-bikes to make your trip even more comfortable and portable.
Brand story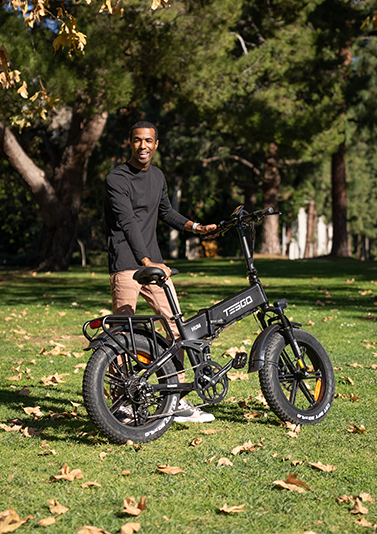 Tesgo Hum-Pro
1000W

Motor

40-70 Miles

Range

95Nm

Max Torque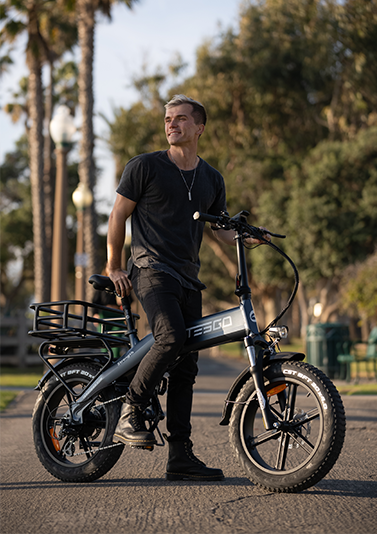 Tesgo STT
1000W

Motor

40-70 Miles

Range

95Nm

Max. Torque
Tesgo Explorer
750W

Motor

40-70 Miles

Range

86Nm

Max. Torque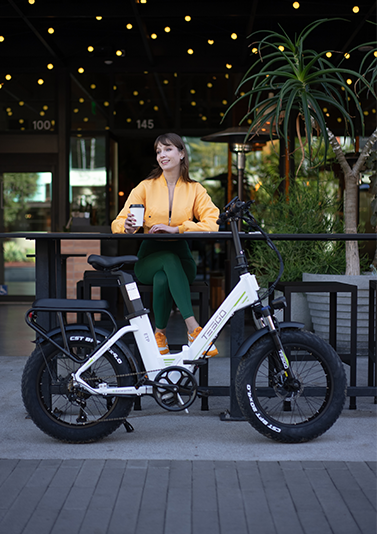 Tesgo Enterprise
750W

Motor

45-75 Miles

Range

70Nm

Max Torque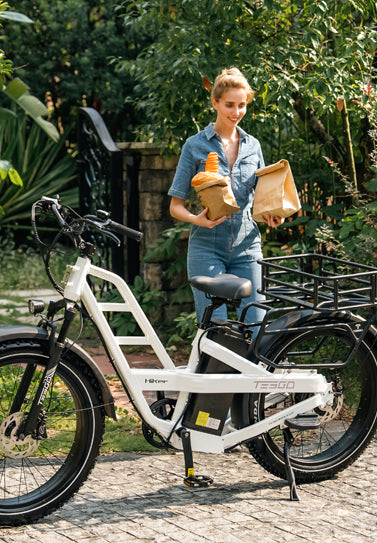 Tesgo Hiker
750 W

Motor

110~160 Miles

Range

70 Nm

Max Torque
CUSTOMER REVIEWS

★★★★★

Very nice machine
I just received my Tesgo Thunder electric bike. What a machine, Rebuste, fast, comfortable and incredible autonomy.
I also had to contact support because I had an oil leak from my rear suspension. After a few email exchanges, photos and videos, support sent me a new suspension to correct the situation at no cost. Really, I am very satisfied with my purchase.
CUSTOMER REVIEWS

★★★★★

Acheter deux vélos et il sont super dans toutes sorte de chemin ils se replie facilement pour transport en camionnette dès heure de plaisir
CUSTOMER REVIEWS

★★★★★

I love my Tesgo STT
I received by Tesco STT a couple of weeks ago. I have easily pulled my Kayak on a cart behind it. I am very impressed with how well built it is and it has lots of power.
CUSTOMER REVIEWS

★★★★★

"With all the options for electric bikes available it can be a difficult decision on whom to trust. I am glad I ordered from TESGO. Any questions or concerns were addressed within a reasonable time."

CUSTOMER REVIEWS

★★★★★

"Confortable, maniabilité un vrai passe-partout

Vélo pliant très confortable, maniable et sécuritaire avec des freins de F1 en plus il entre facilement dans mon petit Vus."
CUSTOMER REVIEWS

★★★★★

"I was really nervous about purchasing an electric bike. I feared that if I ran out of electricity I would be stuck, this is not the case with this the Tesgo Hummer. I can actually ride this thing 12 and 15 miles unassisted just like with my mountain bike!"
CUSTOMER REVIEWS

★★★★★

"I must say that it has exceeded my expectations in every way possible! One of the things I love most about this e-BIKE is its battery life - it lasts for miles on end, so I never have to worry about running out of juice when I'm out and about. The STT is so easy to operate, and all the electronics."
CUSTOMER REVIEWS

★★★★★

"I am a senior [ age 79 ] I purchased the model Enterprise because it was recommended [ as per the info on your excellent website ]...
I have had the bike for about a month now and so far it has met all of my expectations and I am getting out and biking further and more often ....
CUSTOMER REVIEWS

★★★★★

After a ton of research on ebikes the Hummer Pro was a no brainer. I am really impressed by the quality of the build of this ebike. It's bit heavy at 66 lbs but I bet it will stand up to a lot of abuse. Had it out for awhile in the snow and it performed great. Can't wait until it is no longer -26 Celsius so I can take it for a long ride. Liked it so much I got 2 and from time of order to my door was 11 days, over Christmas!
Tesgo Electric Bikes Canada Blog
View all
Commute smart. Save money.